Integrated Dentistry and Medicine are "the Art of Healing" because everytime I treat a person, I do it with the conscience of knowing that it is a therapeutic act that reaches the whole Being of the patient.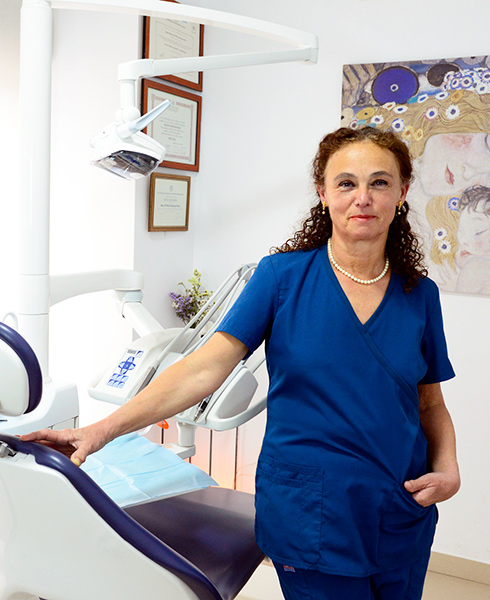 About Me
I was born in Murcia, Spain, were I grew up and got graduated as Doctor of Medicine. I later specialized in Stomatology at Universidad Complutense, in Madrid.
My intention was to come back to live near the sea, but I got to know Antroposophy with my partner, George, and since our idea was to start a family, we finally settled close to Escuela Waldorf Micael, in Las Rozas, Madrid, where our kids attended school.
My professional life over the last thirty plus years has been based on two fundamental pillars. The first one is to always be in a state of constant search and learning, with the aim of making Dentistry a Science of Health and Spirituality. The second pillar, of incredible personal value to me, has been my dedication to Odontopediatrics, trying to make going to the dentist easier, more natural and even fun for children, and to make it part of their personal growth and self-confidence journey through life. Being part of that journey, within their family and social environment towards maturity and purpose, has always been the most precious present to me.
Integrated Dentistry and Medicine speak of our approach to the patient in his own integrity and to the context to which he or she belongs. And both tell us that the approach is not only therapeutic, in terms of techniques performed by different specialists working as a team, but also as part of the use of allopathic and homeopathic medicines, combined with essential oils, neural therapy and other remedies.
Qualifications
Doctor of Medicine (COEM registration number 28003964)
Stomatology Specialist
Pediatric Dentistry
Functional Orthopedics of the Jaws
Dentosophy
Homeopathy
Traditional Chinese Medicine
Kinesiology
Dental Biodecoding
Etiotherapy
Professional Assotiations
Working Hours:
Monday-Friday: 9:30am-1:30pm and
4:00pm-8:00pm
Alternate Saturdays: 9:30am-1:30pm